New project and performances
We are working on a new play with and about refugees in Bavaria.
If you want to support us please contact us at kontakt[at]buehne-fuer-menschenrechte.org!
If you want to know where we perform next click here.
Follow us on Instagram and Facebook for updates about Actors for Human Rights Germany.
Premiere "Germans among the victims – A research project on the NSU by Tuğsal Moğul"
Our new play "Germans among the victims – A research project on the NSU by Tuğsal Moğul" premiered in Würzburg on 27 April 2022!
Description:
Ten dead in eleven years – nine people of Greek, Turkish and Kurdish origin. This is the sad balance sheet of the NSU. For years, victims with migration background were accused of being involved in organized crime – at the same time officials ruled out a right-wing extremist background to the crimes.
The crimes of the NSU ended in 2011: Uwe Böhnhardt and Uwe Mundlos were found dead in a burned-out mobile home, four days later Beate Zschäpe turned herself in to the police.
The largest political criminal trial after reunification tried to clarify. After five years and a total of 438 days of hearings, during which more than 700 witnesses were heard, the verdict was announced. But the questions remain:
What role does the state play in this crime complex?
It's a German crime which cannot be solved completely. It is German contemporary history! What would have happened if the victims had had German names and the perpetrators had non-German names?
After nine months of intensive research, Tuğsal Moğul has compiled facts and statements, police reports and political statements on the NSU murder series in particular and on right-wing violence in general. In it's intensity these facts develops an extreme effect. The truth can no longer be suppressed and downplayed. Moğul and his ensemble which sometimes acts as they are in CSI and sometimes as in a fairy tale don't have to scold the audience at all. The events they report on speak for themselves and are always linked to a question for all of us. How did it come to this and what part does each individual have in it?
This evening, which works with a wide variety of means, which is sometimes classic documentary theater and sometimes bitter satire, which reconstructs the murders of the terrorist group and at the same time dares to predict the outcome of the trial, is transformed into a theatrical prayer for the dead. The many victims of right-wing extremist violence disappear from the news and public memories far too quickly. So now it's up to us to commemorate them once more.
Performance rights held by Rowohlt Theater Verlag, Hamburg
The play AUCH DEUTSCHE UNTER DEN OPFERN. Ein Rechercheprojekt zum NSU von Tuğsal Moğul has been published as an e-book. More about this here.
New date just dropped: "Not One Less" at SO36 on 16 March 2022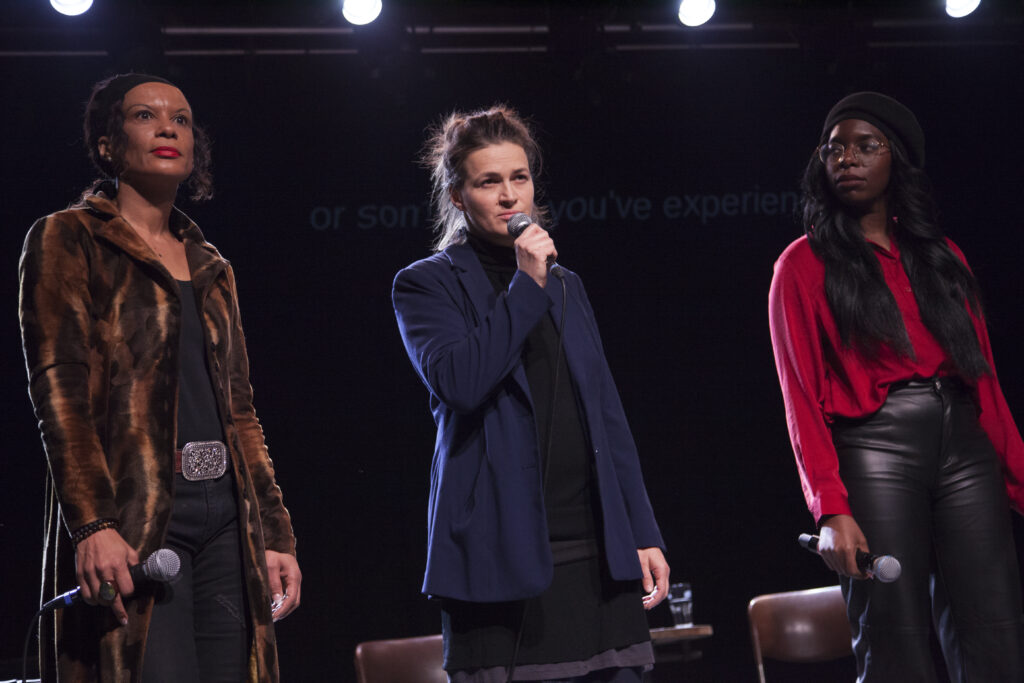 In January we celebrated a very succesfull premiere at SO36 with four sold out shows. Now we're back to celebrate Women's History Month!
Tickets are available at SO36.com.
All events are 2G+ (vaccinated/recovered + test).
We're looking forward to see you in March!
All the best,
Your Bühne team
Additional date on 15 January 2022
@SO36. Tickets available here.
Tickets now for Sale
Tickets for 12 January 2022 II 13 January 2022 II 14 January 2022
The dates are set! You will be able to admire our fress off the press posters all over Berlin from next week.
Tickets for our new play "Not one less – A documentary theater play about solidarity" are now for sale at SO36's website.
See you there!
Not one less!
There's a lot going on at Actors for Human Rights Germany.
Our new project "Not one less – A Documentary Theater Play About Solidarity" is as almost finished!
After almost two years of research, networking, interviews and workshops, we are working on the final version of our new documentary theater piece at full speed.
And there is already a premiere date! On January 12, 13 and 14, 2022 at 7:30 p.m. at SO36 in Berlin.
Coming soon: See the play all around Germany! If you want to invite us to show a production of the play near you, write to us at kontakt@buehne-fuer-menschenrechte.org.
Follow us on Instagram @buehnefuermenschenrechte to be there live and to be the first to know about all the news.
See you soon!
Under construction
Yes, these are exhausting times for us too. So let's use the time for some renovation work and new approaches.
We continue to work as an organisation whose work behind the stage is compatible with what it represents on stage: human rights, non-discriminatory cooperation and collective work in the struggle for a fairer world.
We are preparing new plays with which we can act nationwide and we are looking for partners who would like to support us during the preparation period.
We also have a new address, both digital and analog. Unfortunately, mails and letters to the old addresses no longer reach us.
Bühne für Menschenrechte e.V.
c/o Serpil Erdik
Heckerdamm 217
13627 Berlin
Mail: kontakt[at]buehne-fuer-menschenrechte.org
I've been looking for Donations
The stage for human rights needs your support!
As a non-profit association, we fund ourselves exclusively through grants and donations. We already have many great network partners who stand up for us and enrich the stage with their creativity and support. At the same time, however, we also need a financial basis in order to successfully implement our projects.
If you too would like to make a contribution to our work, we look forward to your donation!
Account details:
Name: Bühne für Menschenrechte e. V.
IBAN: DE31 1005 0000 6603 1317 12
Berliner Sparkasse (SWIFT-BIC: BELADEBEXXX)
Subject: Donation
Actors for Human Rights has been producing documentary plays on current human rights issues since 2008. Our main concern is to spread the voices of the people who are affected by human rights violations. With our plays, we take an offensive against racism and the erosion of German asylum law, and through our performances we want to actively promote the networking of democratic forces in our society.
In the past year we played over 70 performances nationwide with and for you and spoke about the topics of racism, neo-Nazi violence and the promotion of democracy in exciting and important discussions.
We are happy to issue a donation receipt on request.
We thank you for your support and wish everyone a peaceful winter time!
Selen Eriçok, Barış Tangobay, Franziska Abt, Lisa Wollmannstetter & Serpil Erdik